Office: 021-356-70-411
Mobile: 0330-21-999-31
Office: 021-369-55-000
Mobile: 0330-21-999-30
About Our Firm
Tax Munshi, represented by TaxMunshi.pk, is a tax and accounting firm of repute in Pakistan and provides quality taxation, accounting, advisory and related services specially to SMEs, such as small businesses and even startups besides medium-sized businesses. Tax Munshi is established by a seasoned and experienced tax practtioners and accountants with a professional experience of more than two decades.
Trust Worthy
Right things of client's interest with ethical values and complete confidentiality and security of the information
Experienced
Decades of delivering best professional services through our well experienced and trained staffs
Professional
Effective interaction that we work together as complementary part of your business
What is our mission?
Our mission is spreading taxation and related information to taxpayers and general public and adding value to our clients business in an efficient and cost effective manner whilst maintaining high professional standards.
Aenean eu leo quam. Pellesque ornare sem lacinia quam venenatis vestibulum.
We are proud of our clients and their trust on TaxMunshi.pk
Aenean eu leo quam. Pellesque ornare sem lacinia quam venenatis vestibulum.
We redefine what it means to be a Tax Munshi (i.e. tax accountant). Yes, we manage your books, and help take care of your tax burden, but we do even  more…..
We are a growing and established firm of tax advisers and practitioners. Tax Munshi (represented by TaxMunshi.pk)  currently comprises of Chief Executive Officer and Business Experts. Our each business expert has more than 15 years experience with high levels of involvement with clients according to need of diligence and experience. Each staff member is highly experienced and on-going training is provided throughout the year in respect of the latest developments to ensure the highest quality of service is delivered to every client.
We provide accounting, bookkeeping and payroll services as well as tax advice to a range of clients nationwide. Our clients range from sole traders to medium-sized enterprises, and we tailor our services to meet each client's individual needs.
We also assist individuals who wish to establish a business and guiding them through the regulatory system and providing all ongoing administrative, compliance and advisory services.
Our Team of Experts
Tax Munshi (TaxMunshi.pk) is the sum of its people and the insights they bring to our clients' most challenging issues. Get to know more about us by exploring the incredible array of people who are Tax Munshi.
Azhar Khan
Chief Executive Officer
This is a great privilege for me to utilize my experience of more than 3 decades in taxmunshi.pk a growing and established tax, accounting and consulting firm. Clients are the direct beneficiaries of my experiences across various sectors and industries including SMEs and my offerings for feasible solutions in today's digital age and ever changing taxation and business environment.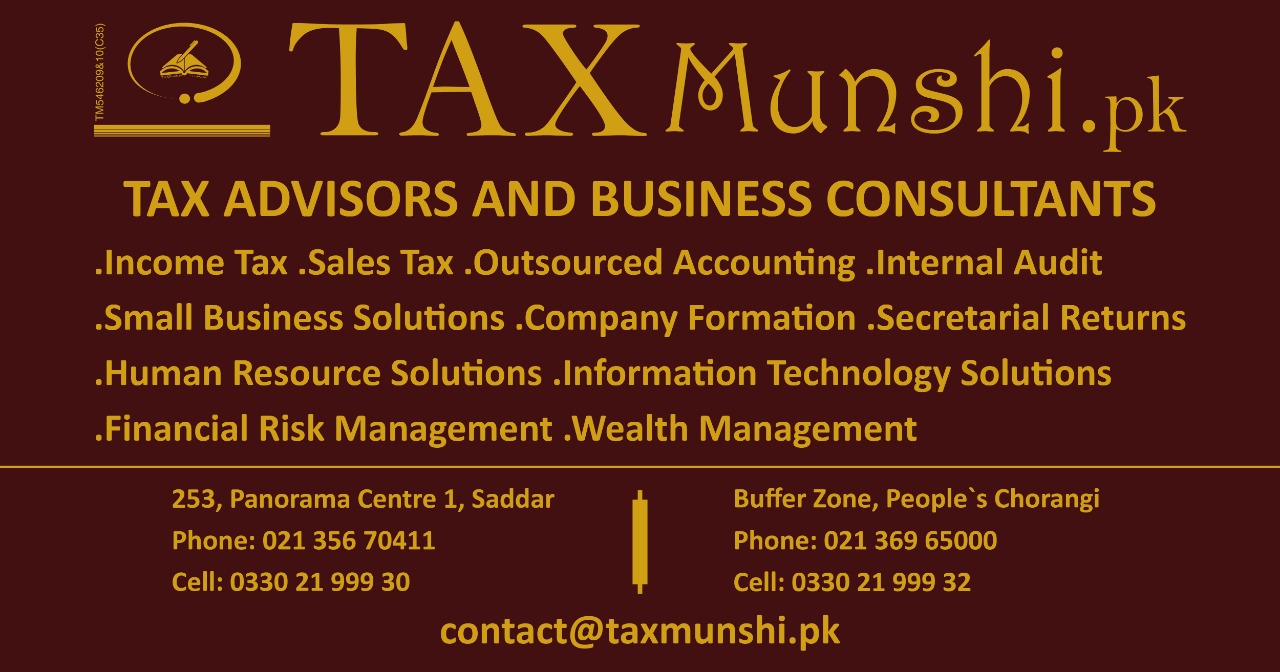 Kashif Ali
Tax Specialist and Adviser
Kashif Ali, a qualified fellow member of Pakistan Institute of Public Finance Accountants, is rich in experience of dealing with Income Tax and Sales Tax over past two decades.
Kashif deals in all income tax and sales tax law matters from routine to complex transactions and is responsible for the management of clients across various sectors and especially for SMEs while providing an efficient, tailored and cost effective service to suit needs of the client whether business individuals, association of persons or corporates.
Faisal Siddiqui
Financial Analyst and Adviser
Faisal Siddiqui is an MBA from the Institute of Business Administration (IBA) Karachi, major in Finance and Investment.
A seasoned and experienced Investment Banker with more than two decades of experience gained as Head of Investment Banking, Equity Fund Manager and Head of Research in international and local leading financial institutions. Hands-on experience in transaction services including managing negotiations, transaction structuring, investment management, portfolio allocation strategy, business planning and forecasting models, business valuations, due diligence etc.
Contact Us
What you want to hear from us, we are ready to share our knowledge, expertise and provide best of our services. Get in touch with us for a question, query or quotation.
021 356 41413, 021 356 70411
OFFICE 1: 253, Second Floor, Panorama Centre 1, Fatima Jinnah Road, Saddar, Karachi.
M-F: 9am-5pm, S-S: Closed
OFFICE 2: Ground Floor, R-8, Sector 16-A, Buffer Zone, People's Chorangi, Karachi.
021 369 55000, 021 369 65000